BOAT RENTAL IN IBIZA
Motor boat rental in Ibiza offers the opportunity for you and your family and friends to spend time on a boat and discover the beauty of Ibiza and the nearby island of Formentera. Most motor boats are available for day charter only but some also can accommodate sleep aboard, usually for a minimum 2 day charter. All boats generally have a captain who skippers the boat. Although there are a few bareboat options available for those who are experienced and have their license. We can recommend and book most restaurants you may want to visit for lunch.
The amount of guests on an Ibiza rental boat is dependent on the license issued to each boat and is indicated on each boat. To assist you in finding the perfect motor boat rental in Ibiza for your holiday, you can search by length, number of guests each boat can accommodate and our price indicator. Due to pricing by season, the Euro price indicates the price relevant in each category.
RENT BOATS IN IBIZA
If you want to rent boats in Ibiza, we offer a select portfolio of motor boats rentals, by the day or days, or by the week, tailor-made to your requirements. Unlike sailboat and catamaran charters which are usually rented by the week from Saturday to Saturday, motor boat rentals in Ibiza generally charter on a daily basis, therefore there is more availability.

WHAT OUR CLIENTS SAY
Every time we visit Ibiza boat rental is one of our first thoughts. We book a beach restaurant and spend time with our friends and enjoy one of the best backdrops in the Med… there is no better way to spend the day.
Nothing is too much trouble for the Lux Charters team. Each time, the boats they recommend get better and better. See you again next year.
IBIZA BOAT RENTAL
When you are looking for the perfect Ibiza boat rental it is worth considering a number of factors including boat length, number of guests in your party, crew, fuel, your itinerary and tenders. Many of our recommended luxury motor boats are moored in Ibiza town, although we also have some options for at other Ibiza marinas including Santa Eulalia and San Antonio. Motorboats are generally classified by length, such as 30ft, 40ft, 50ft and 60ft or in metric from 8m to around 20m. Boats that are larger than 78ft or 24m are technically called super yachts.
Depending on the boat's license, you can usually have 9- 12 guests plus crew. This is detailed on each boat and filterable. In Ibiza, most private charter motorboats are generally hired with a skipper. Should you wish to rent bareboat in Ibiza, Lux Charters Ibiza can help you find a few motorboats around 10m/30ft which can be chartered without a skipper. Most boats above 10m are rented with a skipper and some with an additional hostess. Fuel is also important consideration when chartering a motor boat. As a rule of thumb there is generally a close relationship between speed, power and fuel costs. Generally speaking the larger the boat, and or the faster you go, the more the fuel consumption. Newer boats tend to be more economic in comparison.
In terms of itinerary, navigating from the town of Ibiza to Formentera by motor boat is one of the most popular day trips and it generally only takes about 25-45 mins in a motorboat, depending on how fast you go. Many people enjoy visiting the island of Espalmador to swim either before or after lunch which generally takes place at one of the nearby chiringuito restaurants in Formentera, although you can also be smart and make the most of your day by eating on-board. Cala Saona is also a very popular post lunch spot to swim before heading back to the port. We're sometimes asked about the possibility of navigating around the island of Formentera. Although this is possible, it is quite far and it will take a good few hours and be quite expensive in terms of fuel. In terms of itinerary, the wonders of the northern tip of Formentera offer so much that few who make it passed Illettes, manage to make it as far as Es Calo on the eastern side or Cala Saona on the west. If you hire from San Antonio you can head north to the untouched western coast or going south towards Es Vedra stopping at Cala Conta, Cala Tarida. You can also hug the Ibiza coastline from Ibiza town and head to Es Cubells and Cala Jondal.
If you are planning to go to shore, smaller motorboats under 50 feet usually do not have tenders. In most instances, this is not a problem, as most of the restaurants along the coast of Formentera and Ibiza usually have a boat service to pick you up and bring you ashore. If you are not eating in the restaurant, you can usually give the boat service driver a tip to take you to the beach and back.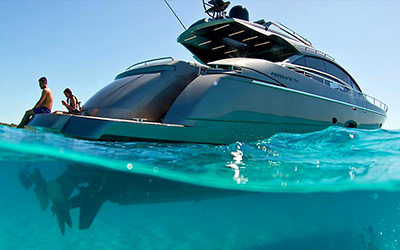 STYLES OF MOTOR BOATS IN IBIZA
Lux Charters Ibiza has a handpicked selection of motor yachts and motor boats for charter in Ibiza. There are various styles of motorboat including a rigid-inflatable boats (ribs) which are lightweight, high-performance boats with inboard (not visible at the back) or outboard engines (visible). These hold 6-11 people and usually have a bimini shade solution which can be used when anchored. Some, such as the Magazzu, Sacs or Nuova Jolly include a small bathroom.
There are newer style open concept boat brands including Fjord, Pardo and Vanquish which are great day charter boat options, as they have a walk around design and make the most of space on deck and most have an additional shade system at anchor.
There is also the more classic motor yacht with brands like Sunseeker and Princess, which have a traditional luxury yachting heritage style below deck, usually with a salon and cabins for sleeping. Some of these boats are offered for day charter only in Ibiza but there are a number of these motor yachts in Ibiza that do offer overnight stays onboard.
LOOKING FOR AN IBIZA YACHT CHARTER
We offer boats suitable for day charter or week-long Ibiza yacht charter. View our portfolio of motor boats, super yachts and sailing boats to find your perfect charter boat. Get in touch by phone or WhatsApp us on +34 605 448 466 you can also email us, and we will assist you in finding the best boat rental in Ibiza to suit your needs.