Renting a boat is one of the best ways to discover Ibiza and Formentera. From the luxury of your charter, you can sail along the coastline and discover romantic coves, hidden caves and stunning landmarks. The islands are home to three World Heritage Sites, pristine beaches, world-class nightclubs and excellent beach restaurants. They have become places to see and be seen, adored by world-class celebrities and members of the jetset. If you plan on chartering a yacht or sailboat in Ibiza or Formentera, we have put together a list of top places to visit by boat.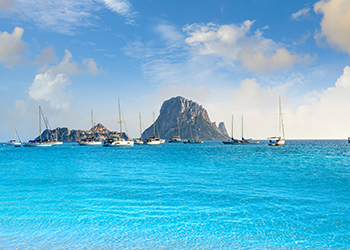 SAILING AROUND FORMENTERA AND IBIZA
DISCOVER THE MYSTERIOUS BEAUTY OF ES VEDRA AND ATLANTIS, SW IBIZA
The area surrounding Ibiza is filled with wonder, and one of the reasons is Es Vedra, a rock island which juts out majestically and is considered the third most magnetic spot on the planet after the North Pole and the Bermuda Triangle. There are many myths surrounding Es Vedra, which makes a visit all the more appealing.
The rock of Es Vedra differs in appearance from Ibiza, leading many people to believe the land is not connected. Legend has it that the rock could be a dormant volcano. In Phoenician times, it was thought to be the holy island of Tanit and in more recent times, it has been the site of UFO sightings. In 1979, a commercial flight from Mallorca to Tenerife was redirected to make an emergency landing in Valencia, after the pilot reported odd lights moving swiftly close to Es Vedra.
Atlantis is the name given to a natural cave in the bay directly opposite Es Vedra. The serene landmark is decorated with an image of the God Shiva, who is said to protect it against danger. Es Vedra and Atlantis have set the scene for many claimed UFO sightings and some people believe there is a secret UFO base under the water. The area is believed to have special healing and inspirational powers, and a uniquely calm beauty that attracts tourists of all ages.
The stones used to build the walls of the ancient city of Dalt Vila were quarried from the rocks of Atlantis and transported in the 16th century. Fittingly, the true name of Atlantis is Sa Pedrera (literally meaning 'stone quarry'). Dalt Vila is a UNESCO world-heritage site; a living, breathing walled city which is home to a plethora of bars, restaurants, art galleries, hotels and homes.
DRUM DOWN THE SUN IN BENIRAS BEACH, NORTH IBIZA
As you approach Beniras Beach from the sea, you will hear the steady rhythm of drums, long before you see Cap Bernat, known as 'God's Finger' to the locals. The seabed is rocky, which makes it excellent for snorkelling and the sheltered bay is popular anchoring spot for private charter yachts and motorboats which come for the sunset. The drumming is a unique experience which takes place each Sunday, when locals and hippies gather to connect as one and literally 'drum down the sun'.
This unique ritual began one Sunday, in 1991, when hundreds of people gathered in this scenic spot to play the drums as a sign of protest against the war in Iraq. Since then, a committed group gathers weekly to drum with passion as the sun sinks into the horizon. Take a walk through verdant hills and valleys to get to this gorgeous beach and give in to the compelling beats.
AMAZING SUNSETS AT CALA CONTA, CALA TARIDA AND CALA BASSA IN WEST IBIZA
Dramatic orange cliffs and lush pine trees surround these three beaches, located on the west coast of Ibiza and hailed as a photographer's haven. Drop anchor a few metres away from the shore and marvel at the beauty of Ibiza's famous sunset, which ranges in colour from a vivid orange to a gentle pink and sometimes, a blazing red. Spend a day on the water and head for Cala Conta (reportedly the birthplace of Hannibal), just as the sun is about to give its spectacular farewell. Marvel at this natural wonder from the comfort of your boat or book at table at Sunset Ashram in Cala Conta, with Balearic beats playing in the background as the sun plunges dramatically into the water and you enjoy a refreshing mojito or caipirinha.
RECOMMENDED IBIZA RESTAURANTS
Enjoy an exquisite meal at restaurants such as El Chiringuito on Playa Es Cavallet (a cool, sophisticated, relaxed venue with options to dine inside or on sun loungers on the beach); Jockey Club Ibiza (located on Salinas beach and offering a sophisticated international menu; Cotton Beach Club (featuring excellent cuisine and a relaxing ambience), Cala Tarida (boasting two excellent restaurants, luxury sand beds and a stunning sea view); Amante Ibiza (featuring Italian and Spanish cuisine on the cliff overlooking the Sol Den Serra bay); and Sunset Ashram (mentioned above, this lively seaside restaurant and beach bar features live music by day and sunset sessions by night). Both Salinas and Jockey Club are located in the South, by Es Cavallet's mystic sand dunes, serene salt plains and turquoise waters. Also popular are La Escollera (a stunning restaurant with a huge lunch terrace and views to match). In the southwest, visit Blue Marlin in Cala Jondal (a world-famous exclusive beach bar, restaurant and club with sunbeds – tender service is available to and from this venue); and Cala Bassa Beach Club (boasting two great restaurants, a sushi bar overlooking the sea and a resident DJ). In the the Northeastern area of Sol d'en Serra, Amanta Beach Club (an award-winning beach bar in a beautiful setting) awaits you for a beautiful meal and Champagne on ice.