CATAMARAN CHARTER IBIZA
Catamarans are an ideal choice for those who are looking for a sailboat, but would prefer to have a bit more space and stability on the water. Often recommended for larger groups and families with children, they owe their stability to their two parallel hulls, which essentially give it a wider beam than a single keeled monohull sailing boat. The hulls are bridged by a deck and allows for larger and more spacious living areas. Typically the cabins are found below within the hulls, usually with their own bathroom. Above, the hulls are bridged by a giant 'trampoline' spanning the entire foredeck area, ideal for lounging on and relaxing in.
The total number of guests you can have on a boat depends on the boat's license, and is shown on each boat. To help you find the perfect catamaran charter in Ibiza, please see the listed options below or contact us to see if we can help you find an alternative. Due to seasonal pricing structure, the € price indicator indicates price relevant to the boats within a boat type.
IBIZA CATAMARAN RENTAL
Ibiza catamaran rental gives you the stability and space that a mono hull boat doesn't and it's a great way to expolre the islands of Formentera and Ibiza.

OUR CLIENTS SAY
An exceptional experience like no other. We spent five days onboard our catamaran charter in Ibiza and Formentera, eating the most gorgeous freshly prepared food, and waking up to the most stunning backdrops imaginable.
10 points for not only matching us with the perfect catamaran but also organising all the details of our trip for us. We had a rather large wish list but your ability to work with all our various criteria shone through.
CATAMARAN IBIZA
If you are looking to charter a catamaran Ibiza is the perfect place to do so. Lux Charters Ibiza has a selection of catamarans available for both day charter and for a weeklong charter on the water. Catamarans are known for their more eco-friendly, green credentials and have significantly lower fuel costs than motorboats. However, the main advantage of a catamaran over a mono-hull boat is space. Below deck there is far more interior space on a cat than a monohull and cabins tend to enjoy a little more privacy, as they are located further apart at each end of the two hulls. Some catamarans have an "owners cabin" layout, whereby the length of one hull is one cabin.
Catamarans are increasingly becoming a top choice for boat rental in Ibiza since they are spacious, modern and come with a tender. Another advantage to sailing on a catamaran is the draft (depth) tends to be far less than on a sailing boat. It is also worth considering that catamaran required a bit more wind for its sails than a sailboat, and it is probably for this reason that both sailboat and catamaran season starts earlier than the counterpart motorboat season, as the wind in Ibiza is usually more prevalent around April.
Most of the catamarans include a skipper, and you can also opt for a hostess on board who will look after you, making meals and preparing snacks and drinks during the day. We also have some catamarans which are available bareboat, without crew. If you are looking to hire a bareboat you will need a valid license and will be asked to pay a deposit in most cases.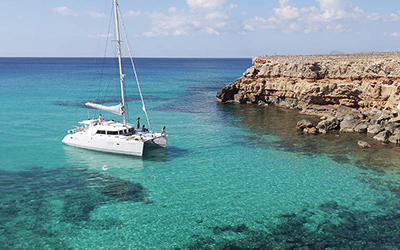 ON BOARD A CATAMARAN IN IBIZA
There are many different sizes and styles of catamarans, with their own characteristics. Most can comfortably sleep 8-10 guests, and often there is room for 2 more in the salon, sleeping on the convertible sofa. Their stability can make nights at anchor seem far more enjoyable and many people who suffer from seasickness, experience this less on a catamaran than on a sailing boat. For day charter, catamaran boats typically handle 12 persons on-board, due in part to Spanish licencing, and often this includes the captain and hostess.
Catamarans in Ibiza are rented from Saturday to Saturday by virtually all operators, please consider this when planning your holiday. If you need flexibility of dates, consider boat rental in Ibiza instead.
DISCOVER YOUR IBIZA YACHT CHARTER