When you Charter a yacht or boat for a week in Ibiza, you get to live a unique experience. Escape to the white island with a group of friends. Live aboard a sailing or motor yacht. Sail from place to place. Explore uncharted territory. Dip in and out of bays. Anchor near white, sandy beaches, quiet coves or lively hotspots. The choice is yours…
Ibiza is a lively island that merits more than a day's stay. With its hidden beaches and coves, lush landscapes and exotic islands and islets nearby, it is best appreciated from the heart of the azure Mediterranean and the only way to do this, is to sail away without a rush – ideally, by renting a sailboat, yacht, catamaran or motorboat for a week.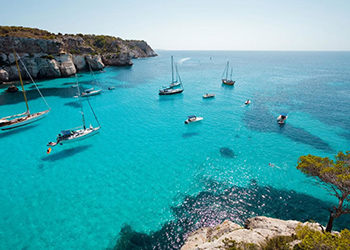 CHARTERING A YACHT OR BOAT FOR A WEEK IN IBIZA
There are many reasons why chartering your own yacht gives you the freedom that a land-based holiday fails to do. Firstly, you have the luxury of enjoying every moment, making the most of each place you visit; spend a full day visiting the main beaches of Ibiza, head out another day to sister island, Formentera, spend another day swimming in Cala Saona, or asks your skipper to take you to 'secret beaches' that seem plucked from a movie set. Just a few of Ibiza's best kept secrets are Punta de Piedra, a stunning stretch of coastline just north of San Antonio which is compared to Formentera, Cala d'en Serra which is hidden between rocks and cliffs with plenty of marine life or Es Portitxol, a tiny stretch of shoreline you need to climb down through a challenging, rocky path.
A weekly boat charter will allow you take part in a host of fun activities. If you are travelling with your children, they will be pleased to know that within a few days, they will probably be quite confident at waterskiing or wakeboarding. These sports can seem like a breeze when we see experts performing amazing feats, yet they require lots of balance and you have to be prepared for many dips in the sea before you are confidently standing on your skis or board.
Having more than just one day out at sea allows you enjoy everything on offer without feeling rushed… You may choose to spend a whole morning paddle surfing enjoying a fantastic, chef-prepared lunch afterwards on deck. Those who frequently charter yachts in Ibiza often say that they look forward to nothing more than just lying on an elegant teak deck, sipping on a glass of Champagne while their yacht or motorboat rips through the waves.
 Most charter guests prefer to sit back and let the hostess or chef take care of the food and drink requirements. This is ideal on a larger boats where the fully equipped kitchen and separate crew quarters allow everyone the space and privacy you require, with all your catering on hand. It is a bit like being in a grand luxe hotel, with a new location each day. Think of a week's boat charter in Ibiza as the ultimate personalised holiday. Before you leave home, we can help you to decide on your route, with can include as many beach clubs or culinary journeys that Ibiza is renowned for, or agree a bucket list that you can complete during your week's stay. This could include things you have always wanted to do – snorkelling, flyboarding, seabob-ing or anything you wish for. With so many days in Ibiza, you can also go shopping where there are a host of boutiques and rich gastronomic offerings of Spain's most luxurious island.
You can also opt to hop from one beach club to the next. Enjoying the best range of local Mediterranean cuisine at the many beach clubs that pepper the shoreline. The top beach clubs usually have a live DJ and lunch in Spain tends to be a long affair that starts late and ends later. Ibiza has become a destination of the stars and in recent years, its gastronomic offerings have multiplied and increased in quality. As a seaside destination, it is the ideal spot to enjoy the fresh catch-of-the-day and many restaurants serve local seasonal, organic vegetables. Of course, if you are in the mood for something quick and simple, we can either whip something up on board or you will also find a range of restaurants ready to cater to your needs. There truly is something for everyone as far as culinary offerings are concerned. Keen gastronomies should also visit the very best restaurants and beach clubs in Formentera, which have their own particular charm.