When you Charter a yacht or boat for a week in Ibiza, you get to live a unique experience. Escape to the white island with a group of friends. Live aboard a sailing or motor yacht. Sail from place to place. Explore uncharted territory. Dip in and out of bays. Anchor near white, sandy beaches, quiet coves or lively hotspots. The choice is yours…
Ibiza is a lively island that merits more than a day's stay. With its hidden beaches and coves, lush landscapes and exotic islands and islets nearby, it is best appreciated from the heart of the azure Mediterranean and the only way to do this, is to sail away without a rush – ideally, by renting a sailboat, yacht, catamaran or motorboat for a week.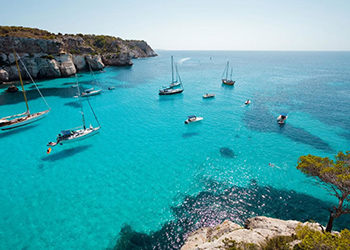 CHARTERING A YACHT OR BOAT FOR A WEEK IN IBIZA
There are many reasons why chartering your own yacht gives you the freedom that a land-based holiday fails to do. Firstly, you have the luxury of enjoying every moment, making the most of each place you visit; spend a full day visiting the main beaches of Ibiza, head out another day to sister island, Formentera, spend another day swimming in Cala Saona, or asks your skipper to take you to 'secret beaches' that seem plucked from a movie set. Just a few of Ibiza's best kept secrets are Punta de Piedra, a stunning stretch of coastline just north of San Antonio which is compared to Formentera, Cala d'en Serra which is hidden between rocks and cliffs with plenty of marine life or Es Portitxol, a tiny stretch of shoreline you need to climb down through a challenging, rocky path.
A weekly boat charter will allow you take part in a host of fun activities. If you are travelling with your children, they will be pleased to know that within a few days, they will probably be quite confident at waterskiing or wakeboarding. These sports can seem like a breeze when we see experts performing amazing feats, yet they require lots of balance and you have to be prepared for many dips in the sea before you are confidently standing on your skis or board.
Having more than just one day out at sea allows you enjoy everything on offer without feeling rushed… You may choose to spend a whole morning paddle surfing enjoying a fantastic, chef-prepared lunch afterwards on deck. Those who frequently charter yachts in Ibiza often say that they look forward to nothing more than just lying on an elegant teak deck, sipping on a glass of Champagne while their yacht or motorboat rips through the waves.
 Most charter guests prefer to sit back and let the hostess or chef take care of the food and drink requirements. This is ideal on a larger boats where the fully equipped kitchen and separate crew quarters allow everyone the space and privacy you require, with all your catering on hand. It is a bit like being in a grand luxe hotel, with a new location each day. Think of a week's boat charter in Ibiza as the ultimate personalised holiday. Before you leave home, we can help you to decide on your route, with can include as many beach clubs or culinary journeys that Ibiza is renowned for, or agree a bucket list that you can complete during your week's stay. This could include things you have always wanted to do – snorkelling, flyboarding, seabob-ing or anything you wish for. With so many days in Ibiza, you can also go shopping where there are a host of boutiques and rich gastronomic offerings of Spain's most luxurious island.
You can also opt to hop from one beach club to the next. Enjoying the best range of local Mediterranean cuisine at the many beach clubs that pepper the shoreline. The top beach clubs usually have a live DJ and lunch in Spain tends to be a long affair that starts late and ends later. Ibiza has become a destination of the stars and in recent years, its gastronomic offerings have multiplied and increased in quality. As a seaside destination, it is the ideal spot to enjoy the fresh catch-of-the-day and many restaurants serve local seasonal, organic vegetables. Of course, if you are in the mood for something quick and simple, we can either whip something up on board or you will also find a range of restaurants ready to cater to your needs. There truly is something for everyone as far as culinary offerings are concerned. Keen gastronomies should also visit the very best restaurants and beach clubs in Formentera, which have their own particular charm.
Indeed, the unique sensation of freedom and privacy is one that frequent sailors say can only be experienced at sea. Few things are quite as cool as spending a night out or dining in style at a five-star restaurant, knowing that when you are ready to call it a night, you can head back to your yacht, far from the maddening crowd.
The idea of 'getting away from it all' is the key reason why yacht and boat charters are so popular, not only among groups of friends, but also among families and couples wishing to experience the ultimate luxury romantic escape. Sleep under the stars with your favourite music playing in the background as you enjoy a nightcap and fantastic conversation. There is something incredibly special about bonding with family while floating on the sea as well; it feels like you are in the midst of a turquoise paradise that heart and soul have been craving to experience all year.
THINGS TO CONSIDER BEFORE CHARTING A BOAT IN IBIZA
If you're convinced about renting a boat for a week in Ibiza, it is important to consider everything you need to make your dream holiday come true. Practical considerations include size, number of cabins, the type of boat that best suits your needs, any special crew needs and activities you wish to enjoy. A catamaran is often recommended for families with children, since this type of boat is more stable; yachts with safety railings, meanwhile, are great for those whose primary concern is safety. Your agent will also be able to suggest features which can be added to your boat.
Because agents deal with such a large portfolio of boats, they are much more convenient to rent from than private owners. Experienced agents can help you craft a bespoke holiday, with interesting itineraries to make the most of your week in Ibiza.
Boat Types and Prices
If you are hiring a boat in Ibiza for a week, rest assured, your boat charter agent will have some great options available. Take note that the number of days vessels are available for charter, will vary. These are a few important factors to take into account before deciding to charter a boat in Ibiza.
What Days Can You Rent a Boat in Ibiza?
Of the four categories of boat (sailboat, catamaran, motorboat and superyacht), most sailboats and catamarans are normally available for a week's charter, from Saturday to Saturday. Motorboats and larger boats have less rigid scheduled.
Crew members
Most boats come with a skipper, though there are some options for those who wish to bareboat. Premier boat charters often come with a chef as well, so if you have the budget and cuisine is your thing, definitely go for this option. If the crew can't offer it, you can always make a request for additional staff – everyone from childminders for kids to scuba diving instructors, on-board yoga teachers or skiing and wakeboarding instructors. Often, these professionals can visit you by the hour.
Prices
The price you pay depends on the size and feature of the boat you select, as well as the season.
TYPES OF YACHTS TO CHARTER IN IBIZA
Some sailboats and catamarans can be hired bareboat (without a crew) or with a skipper and crew. Catamarans are ideal for those needing a lot of space and for those for whom stability in the water is prime (including families travelling with little children). Catamarans differ from others sailboats because they have two hulls and are generally a little wider, so they can comfortably sleep eight to 10 guests comfortably. Like sailboats they have lower fuel costs, so you can factor these savings into your budget when planning your week's catamaran charter in Ibiza. When you skipper a catamaran yourself, the boat can handle 12 persons on-board, making this an ideal choice for groups. Catamarans are increasingly become a top choice for boat rental in Ibiza since they are spacious, modern, and usually come with a water marker, tender and many more features.
Rent a motorboat for a week in Ibiza if speed is of the essence. Navigate around Formentera at 20 knots will take two or three hours and your boat will certainly be one of the most stylish on the Mediterranean. Some motorboats have a skipper cabin. One of the best things about chartering a motorboat in Ibiza is that dates are much more flexible. Many luxury motorboats are moored in Ibiza, though LuxCharters has options at all marinas: Ibiza town, Santa Eulalia, and San Antonio. Fuel is an important consideration when chartering a boat, so ask your charter agent about the relationship between speed, power and fuel costs.
Superyachts are the ultimate luxury choice for those who value space and sleek design. Technically, a superyacht can be defined as a sailboat or motorboat which measures over 24m. Sailboats and catamarans tend to be booked particularly early, though motorboats are also very popular. If you are eyeing one particular superyacht, it also pays to reserve it for yourself sooner rather than later.
WHAT TYPE OF BOAT ARE YOU LOOKING FOR?